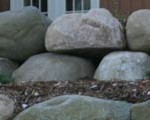 Tier One Landscape offers a variety of customized programs to build a vibrant lawn and a weed-free property. Tier One Landscape provides services that include both fertilization for turf-building and herbicides for weed control.
To ensure a healthy, green lawn, Tier One Landscape designs fertilization programs tailored for the unique challenges of your property. Tier One Landscape's licensed and extensively trained team will help you build a plan that fits your needs and your budget. Tier One Landscape provides up to four applications of fertilizer, with granular and liquid fertilizer available.
For weed control, Tier One Landscape recommends up to three applications of treatment, including:
One pre-emergent
Two post-emergents
Tier One Landscape also provides herbicide for rock and mulch areas to ensure weed-free plantings and flower beds. Any call-backs will be completed at no charge to you, as requested by Tier One Landscape field supervisors.