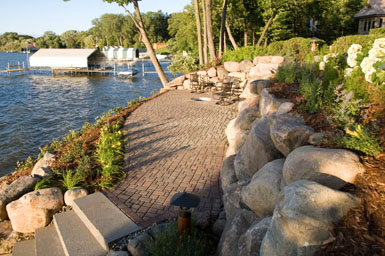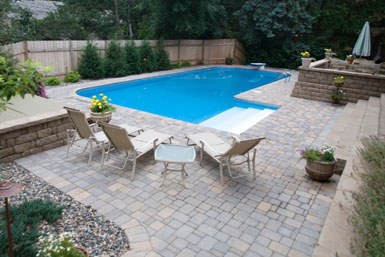 Tier One Landscape paver or flagstone patios and pool aprons add sophistication and beauty to your outdoor spaces.
Tier One Landscape paver patios and pool aprons are superior to concrete and asphalt options because of their attractiveness, low maintenance, longevity, and strength. Pavers can be used throughout your Tier One Landscape outdoor solution to provide continuity of design within your total outdoor environment. In addition, a paver patio or pool apron can coordinate in creative ways with paver driveways, walkways, and the like.
Flagstone patios and pool aprons—another attractive option—offer similar strength and longevity with a different look and feel when compared with pavers. Durable and beautiful, flagstone patios and pool aprons complement both naturalistic and more formal landscape designs.
Whether paver or flagstone, Tier One Landscape can provide innovative ideas to incorporate waterfalls, streams, steps, and other landscape elements into your patio or pool design.