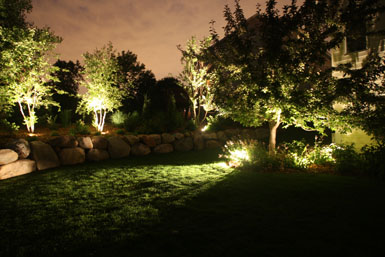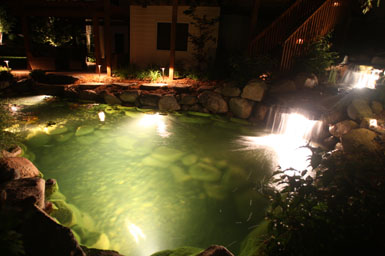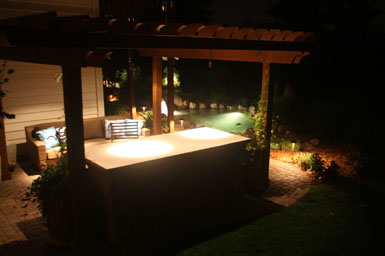 Illuminate your outdoor environment! You have nearly limitless possibilities for incorporating lighting elements into your landscape solution. Consider ideas from Tier One Landscape such as:
Light your walkways, steps, and patios at night for safety and security
Light the edges of your free-standing patio walls, retaining walls, and the like to illuminate key features of your landscape
Light your pond, stream, or waterfall from inside to create a gentle nighttime glow
Light your pergola, gazebo, canopy, trellis, or umbrella with twinkling lights from above to highlight the structures in your outdoor environment
Light your outdoor kitchens and rooms with subtle glow to ensure full functionality of your outdoor living spaces
Light special trees and other plant elements in your landscape to create a mood and lend character to your property at night
In addition to the many ways that low-voltage landscape lighting gives depth to an outdoor space, landscape lighting in itself can be a beautifying element in your property. Tier One Landscape's approaches to landscape lighting involve unique materials, shapes, and styles—almost as many options as you would expect inside the home. Let Tier One Landscape design a lighting solution for you—Tier One Landscape will carefully consider the architectural and decorating style of your home's interior to extend your personal design sensibilities into your outdoor world.