Tier One Landscape hardscapes include the built elements of landscape design that most people think of: retaining walls, driveways, patios, walkways, and steps. Today's approach to hardscapes incorporates a focus on outdoor living and includes outdoor rooms, fireplaces, and kitchens.
Tier One Landscape is fluent in the timeless uses of boulders, pavers, and stone. Tier One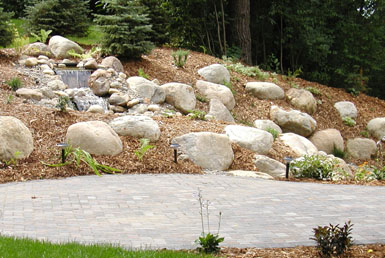 Landscape also seeks creative new ways to use the many functions of hardscapes in ways that allow clients to expand their living space to the outdoor environment.
Hardscapes are the foundation of every landscape. With the proper foundation in place, you can expand your landscape to incorporate softscapes, waterscapes, lighting, and more.